Litter W-2.  Date of Birth:  12/19/21.  Mother:  Tassel Magic Hennessy (Henny).  Father: Nebraskcoons Benny Gee (Benji).
RESERVED for Gabrielle T.  Mother is spayed and also available to adopt.  She is a very loving and gentle girl.  Adoption fee to be determined.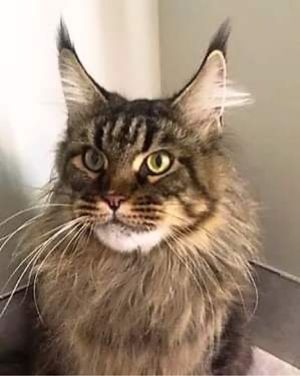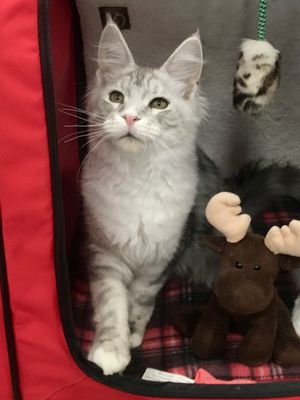 Home with Lynda F. "Willis". $1700, Male. Brown Tabby.
ON HOLD for Nebraskcoons. "Wallace". $1700. Male. Silver Mackerel Tabby.
Stays with Nebraskcoons. "Wynona". $1500. Female. Brown Mackerel Tabby
Home with Ann M. "Wanda". $1500. Female. Silver Tabby and White.
Nebraskcoons. "Woodrow". Male. Blue Smoke
2017/6/22

TICA Regional Winner for Best Black Smoke and White Maine Coon. Champion in TICA, Quad Champion in ACFA. Black Smoke and White. Female. imported from Russia. Great pedigree. Wonderful personality. All genetics test negative.

2016/8/8

"HENNY" Black Mackerel Tabby. MCO. n23. Imported from Russia. HCM n/n. SMA n/n. PKD n/n. PKdef n/n.